Jackson Park
Designers: Frederick Law Olmsted, Calvert Vaux, Daniel Burnham | City: Chicago, IL | Project Type: large parks, historical
Date Visited: 10.24.12
Location: 6401 S. Stony Island Avenue, Chicago, IL, 60637
Size: 593 acres
Official Opening Date: 1871
Billed by ASLA as "one of the most significant and complex historic landscapes in Chicago and the nation," Jackson Park has been one of Frederick Law Olmsted's–the "father of landscape architecture"–largest and most important park designs.


After the completion of Central Park in New York City, in 1869, Olmsted and Vaux were asked to design part of the 1,055-acre South Park system; their final design resulted in the creation of two parks, Washington Park, Jackson Park, and the Midway Plaissance. As a believer in the ability of nature and landscape architecture to cure social ills, Olmsted and Vaux strove to transform hundreds of acres of swampy land into soothing, picturesque parks.
When Chicago won the honor of hosting the 1893 World's Fair to celebrate Christopher Columbus' arrival in the New World, Jackson Park was selected as the site for the White City. Frederick Law Olmsted, along with Chicago urban planner Daniel Burnham, became leading designers of the fair, a momentous event that would not only attract over 27 million people, but would also have an enduring effect on American culture, architecture, and design.
The master plan of Jackson Park was redesigned to accommodate for the neoclassical "White City," whereby a system of lagoons and a formal Court of Honor–made of white stucco classical architecture–were put on site. With the availability of funds and resources that came with the prestige of the World's Fair, Olmsted was about to finish out many of the details of his and Vaux's original master plan, including the development of the 16-acre Wooded Island.
When the exposition came to an end, Jackson Park was allowed to return to its natural state. Olmsted and his stepson and partner, John C. Olmsted, drew up Olmsted's third and final master plan for the expansive park. Additional features to the park that were added in later years include the expansion of lakefront beaches in the 90s and the Japanese-style Osaka Garden in 1935.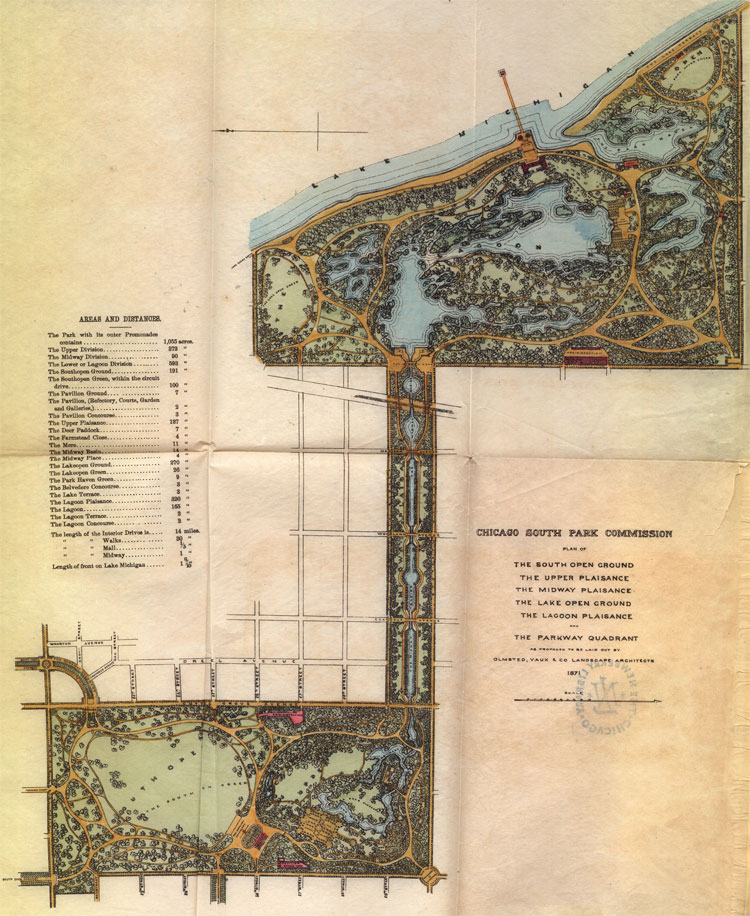 Olmsted and Vaux's first master plan. Image credit: lib.uchicago.edu
Plan of Jackson Park, 1895 showing footprint of Exposition buildings. Image Credit: NPS