Millennium Park: The Lurie Garden
Designers: Gustafson Guthrie Nichol, Piet Oudolf | City: Chicago, IL | Project Type: gardens, green roof
Date Visited: 10.21.12
Location: 201 E Randolph St Chicago, IL 60601
Size: 3 acres
Cost: $13.2 million
Official Opening Date: July 16th, 2004
One of the crowning achievements of Millennium Park, award-winning Lurie Garden was designed by Seattle-based landscape architecture firm Gustafson Guthrie Nichol and the influential Dutch garden designer, Piet Oudolf.


This 3-acre oasis atop Millennium Park's parking garage counts as one of the largest green roofs in the world and "pays homage to the City's motto, "Urbs in Horto" (City in a Garden), which refers to Chicago's transformation from its flat and marshy origins to a bold and powerful city." Gustafson and Oudolf used native plantings and stonework as their medium to articulate Chicago's historical landscapes.
From the Gustafson Guthrie Nichol Project Description:
"Part of Millennium Park, in Chicago's historic Grant Park, this rooftop garden is between a bandshell by Frank O. Gehry & Associates and an addition to the Art Institute of Chicago by Renzo Piano Building Workshop. The Shoulder Hedge, a 15-foot high topiary, encloses the Garden on two sides and creates the illusion of solid "shoulders" supporting the silvery forms of the bandshell beyond. Inside the Hedge, two sculpted garden "Plates" create illusions of scale and horizon and showcase the talent of renowned plantsman, Piet Oudolf. The two Plates render the dramatic transformation of this site, from vast, immersive marsh to controlled rooftop garden."
Since the Lurie Garden would have to accommodate large crowds–upwards of 10,000 people–at all times of the year, the designers created wide paths, easily-navigable circulation routes, and a planting palette with year-round seasonal interest. And as a visitor in late fall, I think the plant palette was a success. I loved not only the layering of colors—dense drifts of yellows, browns, purples layered in front of a thick, green and geometric hedge backed by the tips of bright red from the trees rising in the background—but also the signage that explicated the types of plants in the garden.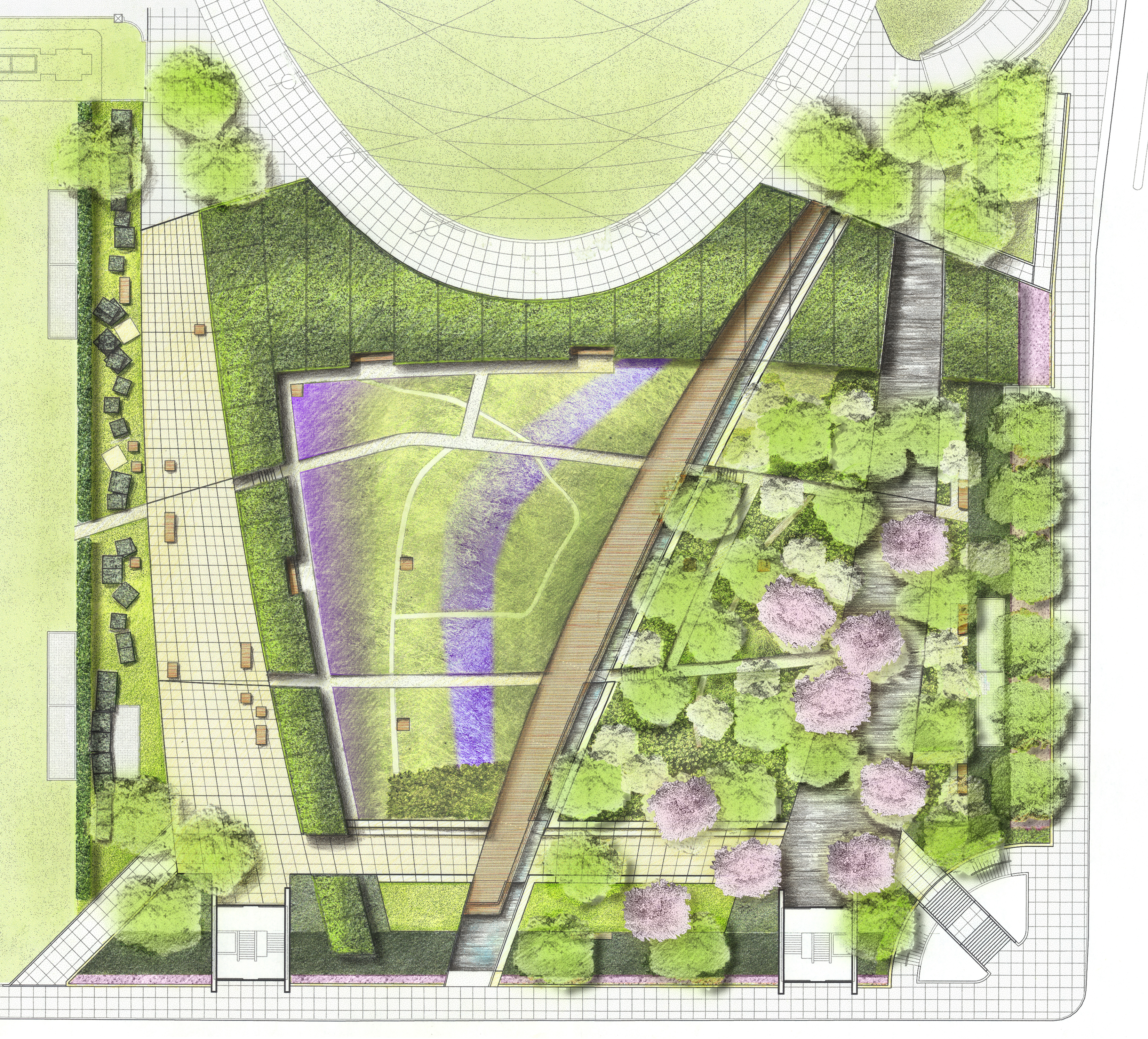 Site Map – Spring. Image Credit: Gustafson Guthrie Nichol Ltd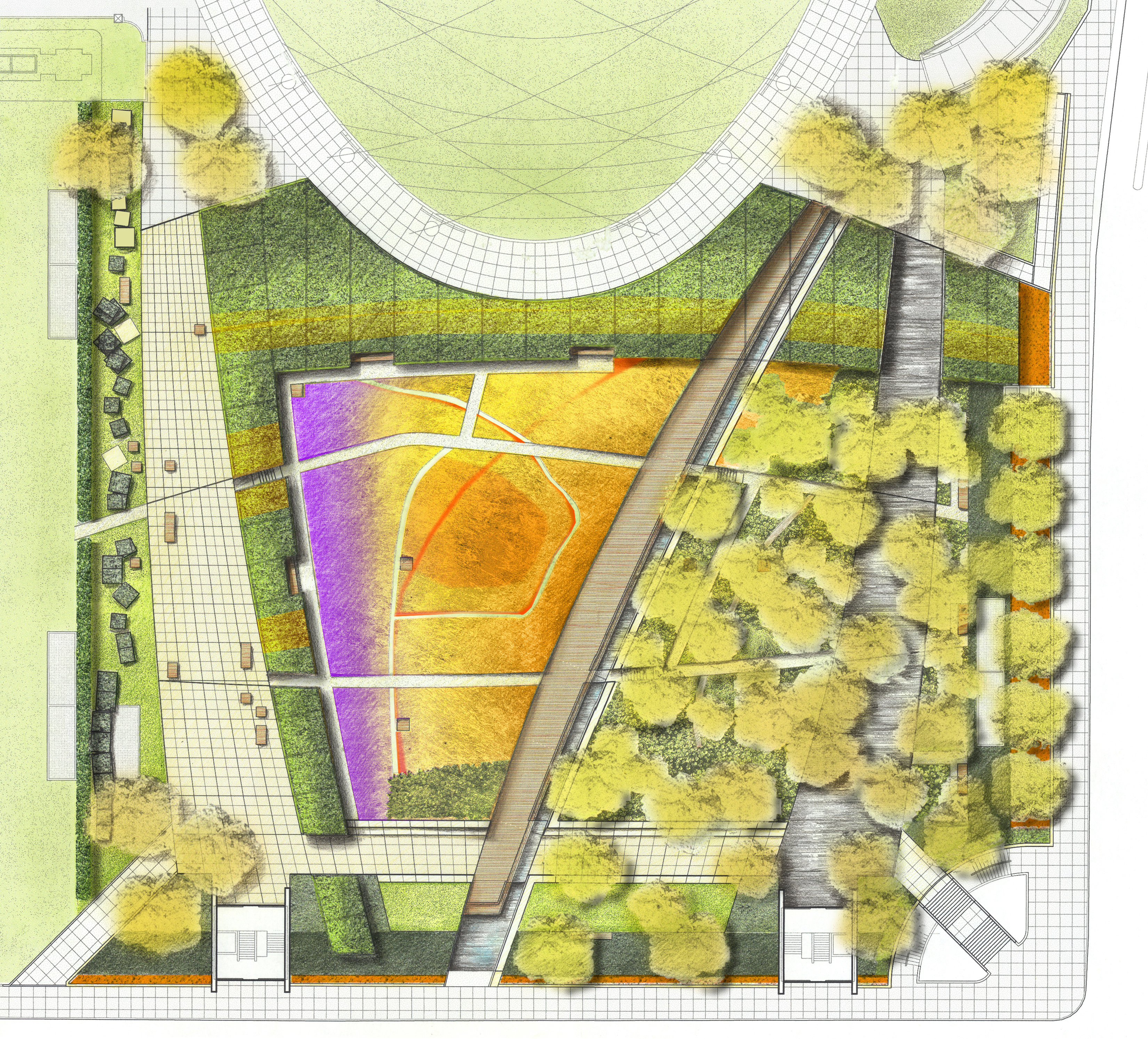 Site Map – Summer/Fall. Image Credit: Gustafson Guthrie Nichol Ltd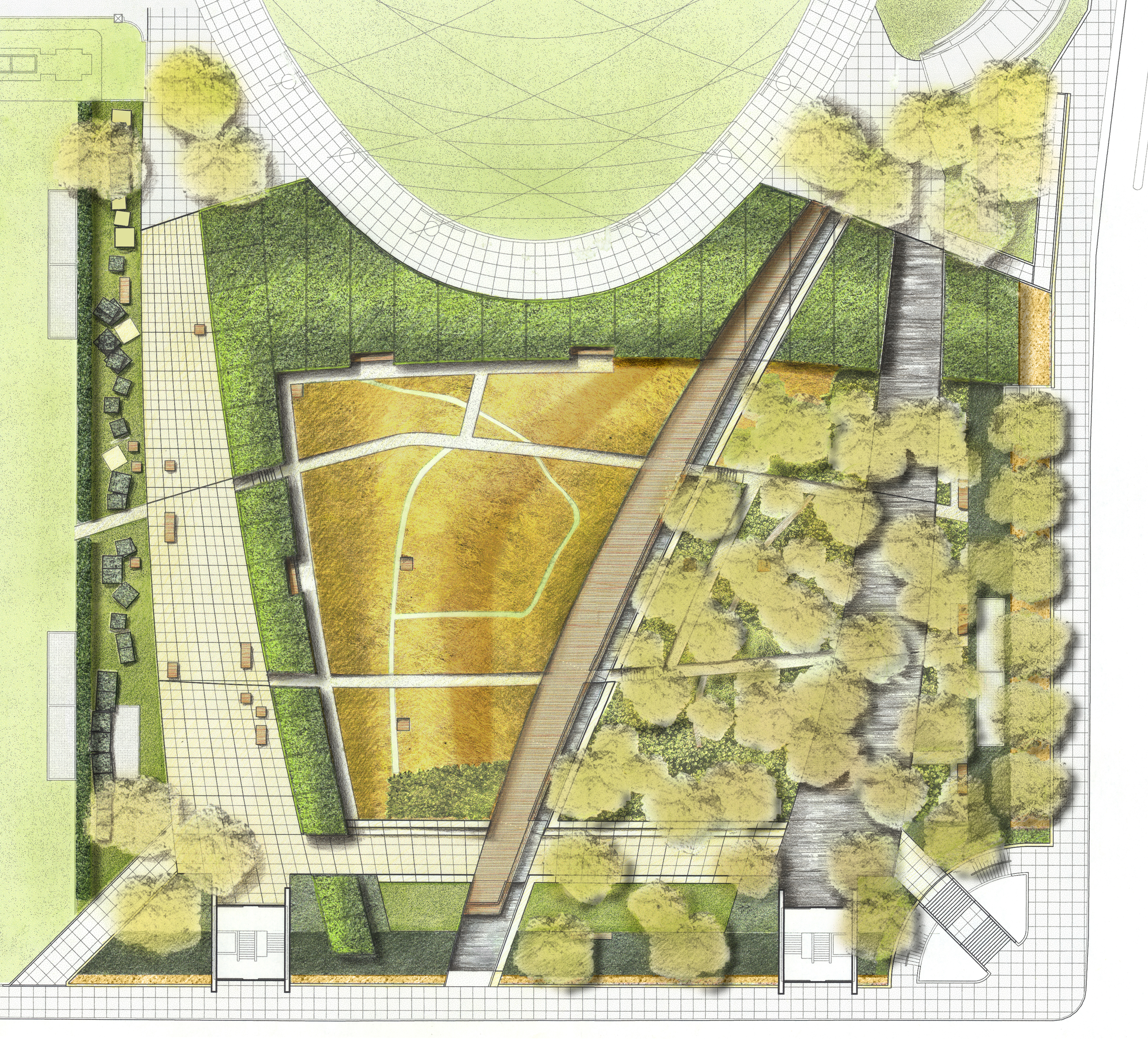 Site Map – Winter. Image Credit: Gustafson Guthrie Nichol Ltd