Old Sutro Baths
Founder: Adolph Sutro | City: San Francisco, CA | Project Type: ruins, historical
Date Visited: 11.05.12
Location: Point Lobos Ave & Merrie Way Golden Gate National Recreation Area San Francisco, CA 94121
Official Opening Date: 1894
Once a large and lavish swimming pool complex, the Old Sutro Baths are now the beautifully haunting ruins that sit on the cliffs of the San Francisco Bay. Constructed in 1894 by Adolph Sutro, this wealthy entrepreneur created the world's largest glass-enclosed swimming pavilion in hopes that it would become a major family and cultural destination. Unfortunately his vision was never profitable, and in 1966, shortly after closing, a mysterious fire engulfed what remained of the Baths. They have been abandoned as ruins ever since.


With the roar of the crashing waves below, surrounded by dark, dripping caves, and the open stony labyrinth of ruins, walking around the Old Sutro Baths feels like taking a step out of time into another world.
Sutro Baths in operation. Photo Credit: cliffhouseproject.com
Back when it was still standing, the Sutro Baths was a massive undertaking that featured an amphitheater, museum, 517 private dressing rooms and seven different swimming pools, of both fresh and salt water, each measuring 12,700 square feet in size, equivalent to over one and a half tennis courts.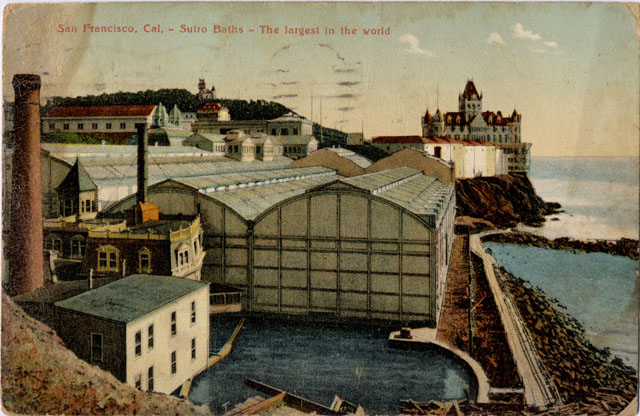 Old rendering. Photo Credit: cliffhouseproject.com
I went on a brilliantly sunny day with few people around. It was an enchanting visit: I climbed up and around the old ruins; sat and observed still, midnight-blue pools with thick green algae; listened to the sounds of waves crashing against rock; and meditated on the edge of the ruins, catching the ocean breeze.