Point State Park
Designers: Ralph Griswold, Bill Swain, and Charles M. Stotz (original design); Pressley Associates (recent renovation) | City: Pittsburgh, PA | Project Type: cultural park, state park, national historic landmark
Date Visited: 09.15.12
Location:
300 Commonwealth Place Pittsburgh, PA 15233
Size:
36-acre
Cost:
$25 million (park renovation) $9.6 million (fountain renovation)
Official Opening Date:
August 1974 (renovations completed in 2008)
Located in the heart of downtown Pittsburgh at the tip of the "Golden Triangle"–the confluence of the city's three famous rivers: the Allegheny, Monongahela and Ohio River–Point State Park is one of Pittsburgh's most beloved parks.
Point State Park: Google Earth View
A National Historic Landmark, the park marks the site of several battles from the French and Indian War (1754 – 1763). It is also home to the historic Fort Duquesne and Fort Pitt.
With its strategic location on the waterfront, Point State Park was once a busy industrial port. After the industrial downtown in the 1940s, however, the area deteriorated into an urban eyesore. Officials drew up plans to turn the area into a park, and in 1974, the city unveiled the 36-acre state park to the public.
In 2006, the city announced a $25 million overhaul of the park; park renovations were completed in 2011, however, the iconic Points State Park fountain will stay dry until Spring 2013.
When working, the fountain is expected to spray 17,000 gallons of water with a 150-ft tall water plume. In lieu of my pictures (construction sites aren't very photogenic), here is an image of the functioning fountain: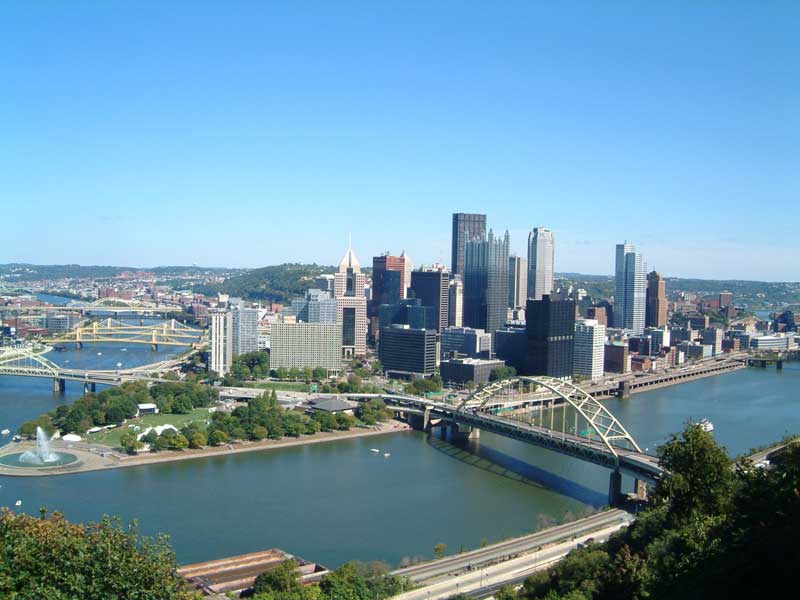 It was unfortunate that the point of Point State Park is closed off at the time of my visit, but the rest of the park was still accessible. One of my favorite parts of the park were the amphitheatre-like seating that doubled like stairs and led down from the foot of the planting beds to the water's edge. The area offered fantastic vantage points and views out towards Pittsburgh's bridges.