The Village of Yorkville Park
Designers: Martha Schwartz, Ken Smith, David Meyer Landscape Architects, Oleson Worland Architects | City: Toronto, ON | Project Type: reclamation, ecosystems
Date Visited: 09.03.12
Location:
Village of Yorkville Park Cumberland Street, Toronto, ON
Cost:
$3.5 million CDN
Official Opening Date:
1994
Decorated with numerous awards including the esteemed 2012 ASLA Landmark Award of Excellence, Yorkville Village Park, one of the very first parks I visited on my trip, still resonates with me months later. A stellar cast of designers–Martha Schwartz, Ken Smith, David Meyer Landscape Architects, and local firm Oleson Worland Architects–sculpted what had originally been a parking lot built over a subway into a celebrated linear park that splices Ontario's major bioregions and ecosystems into the site's local history; the width of each landscape "slice" is informed by the lot lines of former Victorian row houses.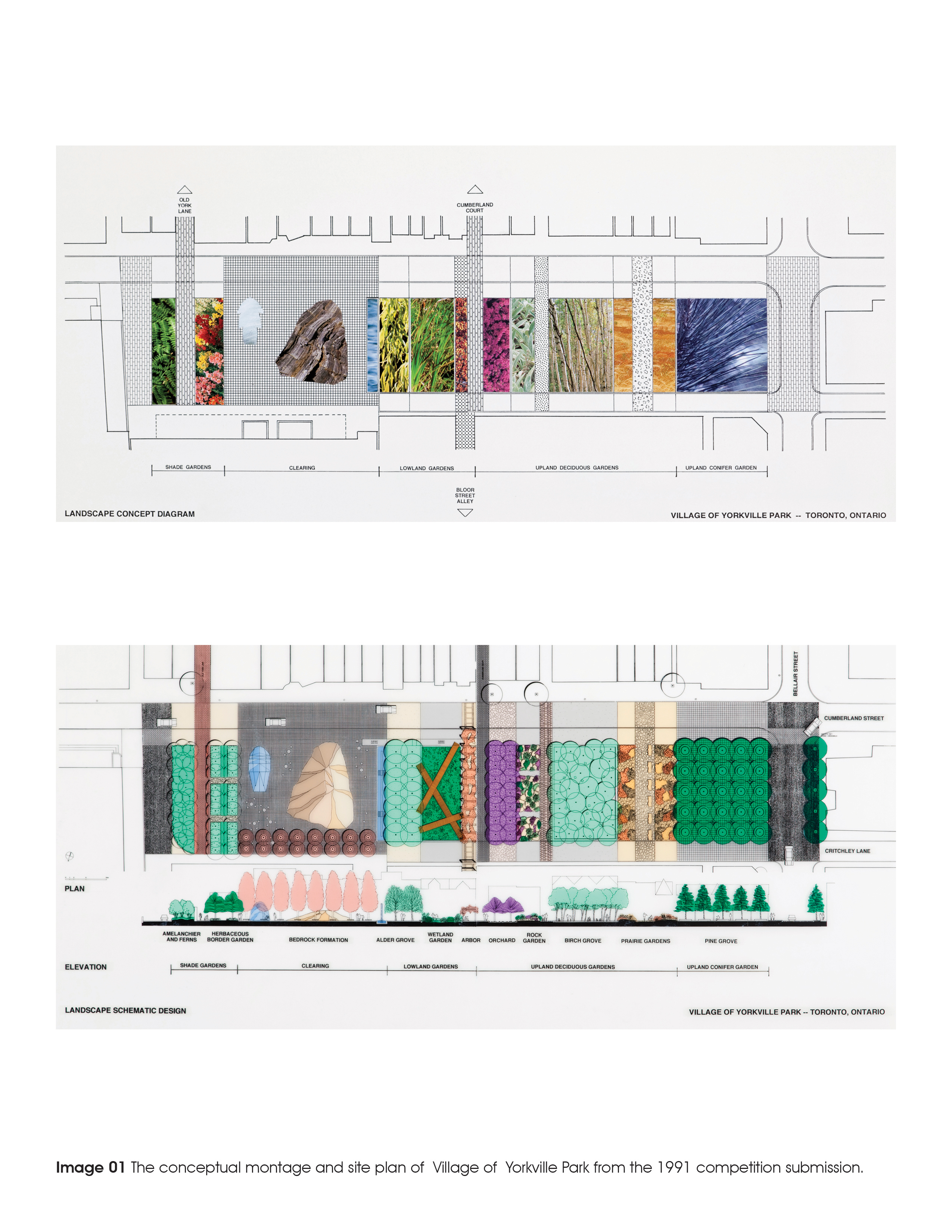 The Village of Yorkville Park Conceptual Plan. Credit: asla.org
The park is divided into eleven sections each referencing a different Ontario landscape with a distinct collection of plant communities ranging from upland pine forest to Ontario marshland. Fitting such a large collection of different plant palettes and landscape styles in the span of just a few city blocks risks dissonant effects, however the designers were able to unite the distinct landscapes as a harmonious whole through careful spatial arrangement and use of overlapping texture and color.
The main highlight and most memorable feature of the park is the 700-tonne, approximately one-billion-year-old Muskoka granite rock extracted from the Canadian Shield, a vast geological area in eastern and central Canada dating back to the Precambrian era. The bedrock outcrop anchors the site and the tactile experience of climbing the rock helps users forge a stronger connection with the landscape.
Though the park is tucked into one of Toronto's most upscale neighborhoods, I talked to the locals and it seems as though everyone has been to this park–a constant flow of people walk through, take pause, bring kids, or sit quietly to read and people watch. A kaleidoscope of diverse landscape and historical elements, Yorkville Village Park manages to capture and reflect the diversity of Toronto without overwhelming its users.
The eleven landscapes include, from east to west:
Pine Grove
A grove of Scot's pines set on a paved plaza. Pre-cast seating rings encircle the trees, and are interspersed with columnar lights, which emit a gentle fog to simulate the early morning atmosphere of an evergreen forest.
Prairie Wildflower Gardens
Flanking a stone path of Muskoka granite, you will see a garden planted with a mixture of prairie grasses and wildflowers. Many of the plants found in the gardens are representative of prairie and wildflower species native to Ontario, Manitoba and Saskatchewan.
Birch Grove
Flanked by the rock garden to the west and meadow garden to the east, this area is planted in a random manner with native river birch trees.
Fragrant Herb Rock Garden
Beside the orchard you will see a raised garden built of Muskoka granite in the manner of the early Ontario settlers who used stone fences to separate their fields. The fragrant garden displays a mixture of perennial herbs and flowing alpine species that have been chosen to provide fragrance and colour.
Crabapple Orchard
Reminiscent of the apple, cherry or pear orchards that could be found 150 years ago in the Village of Yorkville; a small grove of flowering Makamik crabapples creates a fragrant canopy of blossoms in the spring.
Festival Walk
At the Festival Walk you will find an arbour planted with purple clematis, red honeysuckle and white silverlace vines. These twining and climbing vines produce superb spring, summer and late autumn show. The paving of the walkway reflects the pattern of an extended film strip, in recognition of Yorkville's role within the Toronto International Film Festival.
Ontario Marsh
Wooden boardwalks invite you to criss-cross the Village of Yorkville marsh. It contains a special mixture of wetland meadow vegetation which from spring to fall provides multiple colours and textures. The meadow species include Joe-pye Weed, Cardinal Flower, White Turtlehead, and a variety of sedges.
Alder Grove
In early spring the elongated catkins of the alders open to provide colour and visual interest.
The Canadian Shield Clearance and Fountain
Known as the Clearing, it is a place for people to meet. In the centre stands a large outcropping of native Canadian Shield granite. To the east of the Clearing is a curtain of water that recalls the gentle fall of rain.
Herbaceous Border Garden
This intimate garden of shrub and perennial species displays a wide variety of plants including flowering dogwood, hosta, daylily, and astilbe.
Amelanchier Grove
At the western and most heavily shaded end of the park, you will find a strip of native shadblow serviceberry trees grown in a bed of ferns, Virginia bluebells and white trillium.